Introduction
Choosing the right laptop bag is an important decision for anyone who frequently uses a laptop. A good laptop bag will not only protect your device, but also provide comfort and convenience while transporting it. A poor quality or ill-fitting bag can cause damage to your laptop, as well as discomfort and inconvenience when carrying it.
When choosing a laptop bag, there are several factors to consider, including the size and weight of your laptop, the type of materials used in the bag, the level of protection provided, the number of compartments and pockets available, and the overall design and style of the bag. It's important to take into account your individual needs and preferences in order to select the best bag for your specific situation.
The purpose of this guide is to provide helpful tips and guidance on how to choose the right laptop bag for your needs. Whether you're a student, a business professional, or a frequent traveler, this guide will provide you with valuable information that can help you make an informed decision when selecting a laptop bag.
Size and Compatibility
The first step in choosing a laptop bag is to determine the size of your laptop. Measure the diagonal length of your laptop's screen to find its size. Common laptop sizes include 13 inches, 15 inches, and 17 inches.
Once you know the size of your laptop, look for bags that are compatible with your laptop size. Most laptop bags will list the size of laptops they can accommodate. Be sure to choose a bag that fits your laptop snugly to prevent damage from jostling around inside the bag. If your laptop is an unusual size or shape, consider getting a custom-made bag or a bag with adjustable compartments.
When selecting a laptop bag, consider how much additional storage you need for accessories and other devices. Look for bags with multiple compartments and pockets, as well as specific pockets designed for items like power cords, a mouse, and a smartphone. This will help keep your accessories organized and easily accessible. Some bags also have additional features such as water bottle holders and luggage pass-throughs for convenient travel.
III. Comfort and Convenience
Comfort is an important factor to consider when choosing a laptop bag. Look for bags with comfortable straps and padding that will help distribute the weight of the bag evenly across your shoulders and back. Wide and adjustable shoulder straps with padding are preferred as they can help reduce discomfort and strain on your shoulders and neck. A padded back panel can also help increase comfort when carrying your laptop for long periods of time.
Easy access to compartments is also important when selecting a laptop bag. Look for bags that allow you to quickly and easily access your laptop and other accessories without having to remove the bag from your back. This will save time and make it more convenient when you need to quickly grab something from your bag.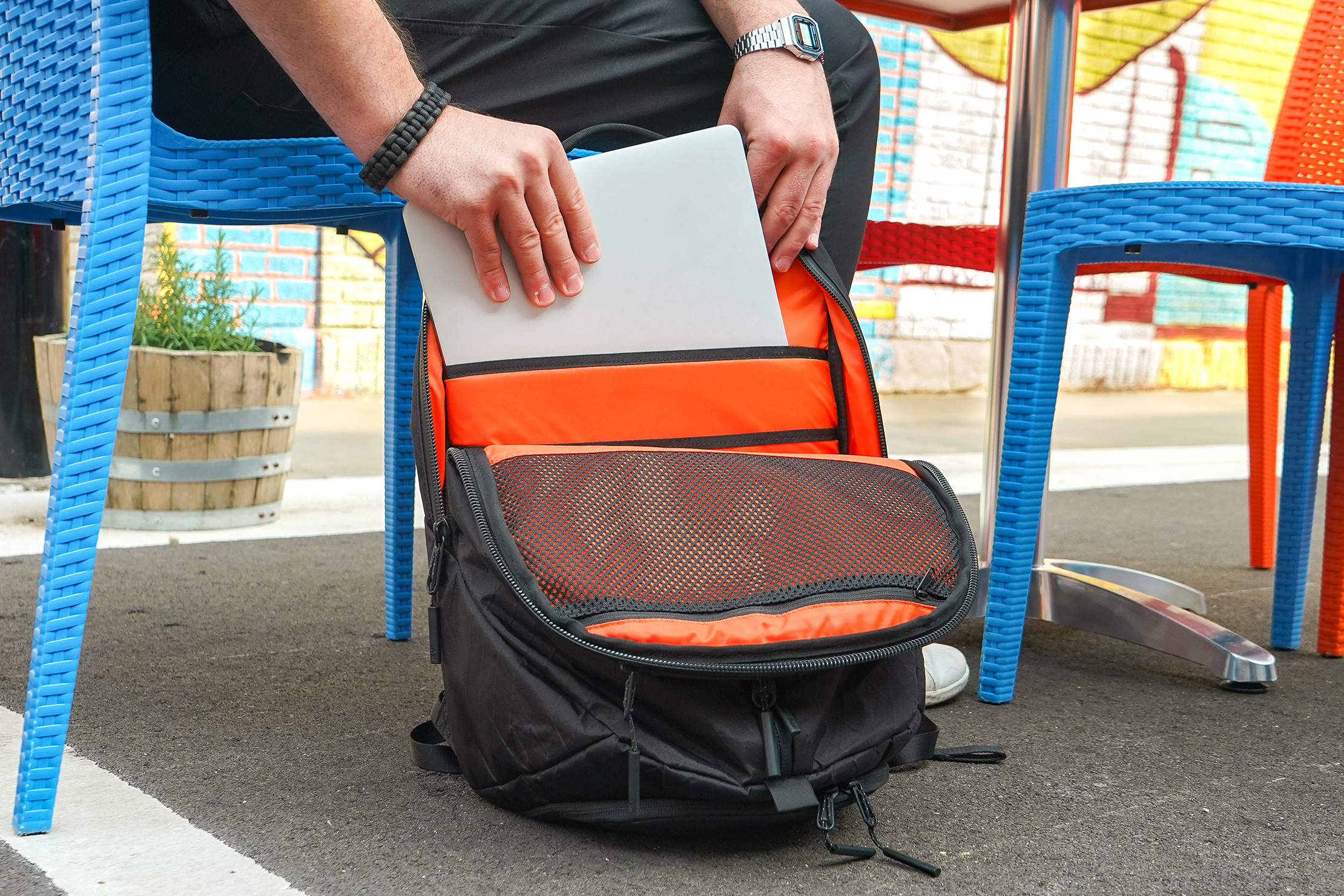 Consider the weight and portability of the bag. A lightweight and compact bag is easier to carry and transport, especially if you frequently travel with your laptop. However, be sure to balance weight and protection. A bag that is too light may not provide enough protection for your laptop. On the other hand, a bag that is too heavy may cause strain and discomfort when carrying it. Consider how you will be using the bag and select one that is both portable and provides adequate protection for your laptop.
Style and Design
When selecting a laptop bag, consider the occasion and environment in which you will be using it. If you will be using the bag for business or formal settings, consider a more professional-looking bag such as a leather briefcase. For casual settings or school, consider a backpack or messenger bag.
Choose a bag that matches your personal style. Laptop bags come in various colors and designs, from classic and elegant to modern and trendy. Select a bag that you like and feel comfortable carrying around, as it will be a reflection of your personal style.
Check for the durability and quality of materials used in the bag. A good laptop bag should be made of durable and high-quality materials such as leather or high-denier nylon to ensure longevity. Look for reinforced stitching and zippers, as well as waterproof or water-resistant materials to protect your laptop and other belongings from the elements. A well-made laptop bag will not only protect your laptop but also provide value for your money.
Price and Budget
Determine your budget for a laptop bag. Laptop bags can range from inexpensive to very expensive, so it's important to set a budget before you start shopping.
Look for bags that offer the best value for your money. Consider factors such as the size, compatibility, comfort, and design of the bag, as well as the quality of the materials used. Don't just choose the cheapest bag you find, as it may not provide adequate protection or comfort for your laptop. Instead, look for bags that offer a good balance between price and quality.
Consider the warranty and after-sales support. Look for bags that come with a warranty and good after-sales support. A good warranty will protect your investment and provide peace of mind in case something goes wrong with your bag. Also, make sure to read reviews of the bag and the manufacturer to ensure they have a good reputation for customer service and support.
Conclusion
To recap, when choosing a laptop bag, it's important to consider the size and compatibility of your laptop, comfort and convenience, style and design, as well as price and budget.
Choosing the right laptop bag is important to protect your laptop and other accessories from damage, as well as to provide comfort and convenience when carrying them around. A good laptop bag can also make a statement about your personal style and enhance your professional image.
Final tips and recommendations include researching and comparing different bags before making a purchase, reading reviews from other customers, and considering the reputation of the manufacturer. It's also a good idea to test out the bag before buying it to ensure that it's comfortable and fits your needs. Remember to balance price and quality, and invest in a high-quality laptop bag that will provide protection and value for your money.
See Also-